TPR 500 Tablet Press
Outstanding productivity and Usability
The TPR 500 tablet press is equipped with several technical innovations and offers customers the highest machine quality combined with excellent usability.
The TPR 500 is equipped with a new 56-station die table and can produce more than 400,000 tablets per hour, considerably reducing process and production time. The modular powder feeding system allows for more flexibility with a two-paddle design that can easily be upgraded to three paddles, depending on product properties and powder characteristics. The machine's good overall accessibility promotes easy tool changes and cleaning. Turret removal is possible in only ten minutes, while complete product changeover can be achieved in less than one hour.
"True Flow" Tablet Discharge Chute
The "True Flow" tablet discharge chute features an easy-to-clean pneumatic gate mechanism and an optimized take-off angle, significantly reducing product damage and increasing output, especially with shaped or friable tablets.
Connected directly to the turret, the new torque drive even achieves high torque at low revolutions per minute (rpm) while saving space in the mechanical area. It generates little heat and has no wear and tear parts, allowing customers to considerably reduce maintenance.
Outstanding hygienic design
The Syntegon TPR 500 is designed for ease of use, good accessibility and reduced cleaning efforts. The two-level production zone ensures total separation of the production and technical areas – even when the turret is removed.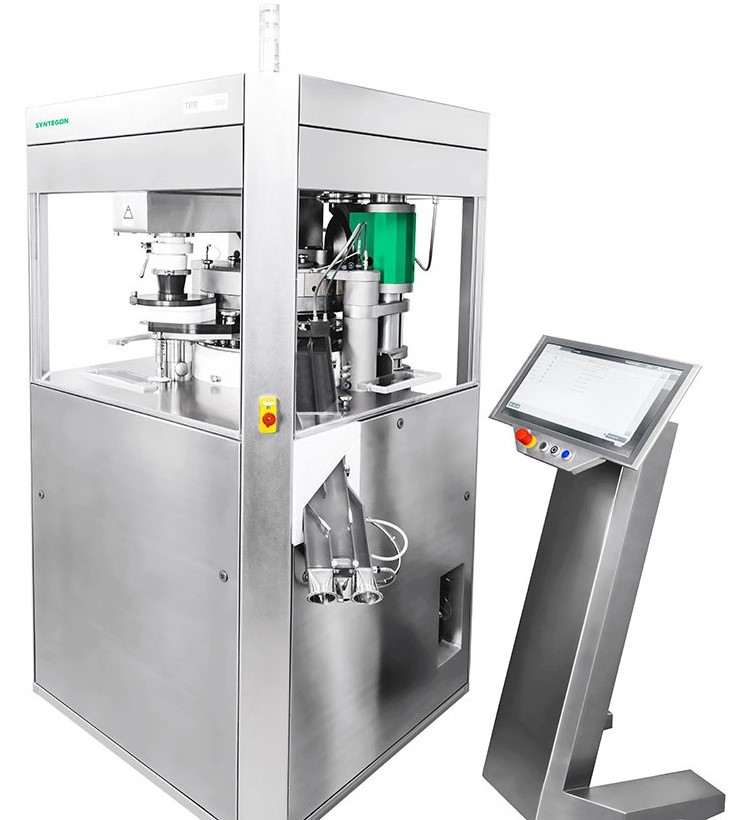 Request A Quotation Today
Contact IPR today to request a quotation or additional information on the TPR 500 Tablet Press!
Your Benefits
High output with more than 400,000 tablets per hour on a smaller footprint
Excellent flexibility with a precisely adjustable and modular powder feeding system
Improved quality with smooth tablet delivery thanks to the "True Flow" discharge chute
Reduced maintenance with highly efficient torque drive with no wear and tear parts
Exceptional usability through intuitive HMI and state-of-the-art controls
Outstanding hygienic design with two-level production zone: easy access, less cleaning
Fast changeover with quick and simple turret removal in only ten minutes
Unique integrated die technology