Ultrasonic Cleaners for Tablet Tooling
New ultrasonic cleaners from Branson provide proven ultrasonic cleaning technology with modern designs utilizing PLC control technology. Optional unattended automation provides maximum return on investment.  Contact IPR today to discuss your tablet tooling cleaning requirements!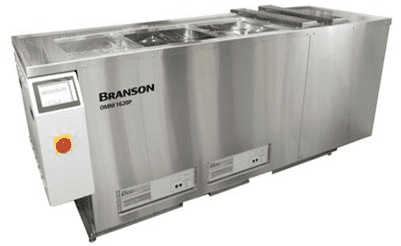 OMNI 1620P Aqueous Cleaning System
KEY FEATURES
PLC control and touchscreen interface offer added functionality including independent control of key set points for each chamber
Enhanced durability and lifespan with 316L stainless steel tanks
Extended cleaning bath life with standard pump and filter
Ease of maintenance through simplified access to routine maintenance components
OPTIONS
Wash Tank Surface Sparger
Oil Removal Package (Coalescer, Ultrafiltration)
DI Water Heater or Treatment System
Automated Material Handling (TDR)
Rotating Baskets
OMNI X TDR-ZP Automated Aqueous Cleaning System
KEY FEATURES
Recirculating pump and filter on the wash tank
Recirculating hot air dryer and manual sliding cover
PLC controls with 3-color touchscreen operator interface
Brush-finished 304 stainless steel skirts, doors and control enclosure
Drop-in tanks for easy replacement
Maintenance items accessible from the front of unit
Small footprint to minimize floor space
TDR-ZP PLC-controlled, two-dimensional robot
Load and unload shelves with proximity switches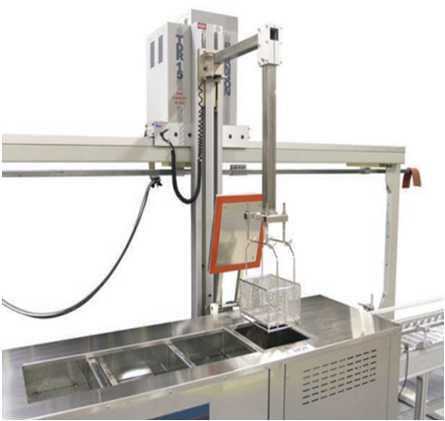 TDR 2D Robot for Automated Basket Handling
KEY FEATURES:
Automated and Unattended Basket Loading and Unloading
Load capacity of 110 lbs. (50 kg)
Four horizontal and vertical speeds
Retrofittable to Existing Ultrasonic Cleaners
Expandable up to 40 feet or more
PLC and PC control packages available
Request A Quotation Today!
Contact IPR to request a quotation or additional information on an Ultrasonic Cleaner that meets your requirements!