Dust Cup Puncher
Fast, Simple, and Safe Method for Punching Dust Cups!
DUST CUP PUNCHER
 Have you ever had difficulty with installing dust cups on your tablet press?
Have you ever lost the pre-punched tip of the dust cup?
If so, we have a solution for you. IPR has designed an off-line, simple dust cup punching machine that can be used for B and D Tooling and any tool tip size.
Accurately and repeatedly punch dust cup on center

Improve fit by punching dust cup upside do Reduce set-up time by punching dust cups off-line
Increase quality by capturing every punched insert
Easy to clean and validate
Increase safety by isolating the operator
Incorporates standard B & D Tooling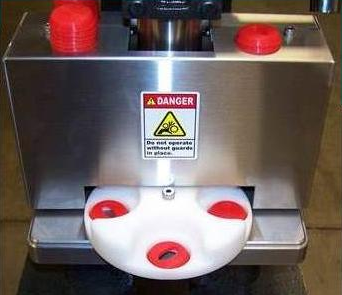 System Components
Dust Cup Carousel – B & D
Base with Stainless Steel Enclosure
Arbor Press
Spring Assembly
Watch our Tech Tip Video to Learn More About the Dust Cup Puncher!
Contact Us
Call IPR today to request a quotation or information on IPR's Dust Cup Puncher!